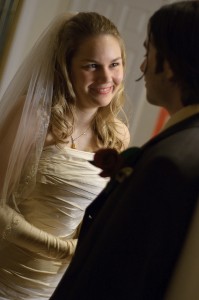 Weddings can be a hectic day at times and one of the options that can make the day more enjoyable is the First Look. What's the first look? It's about an opportunity to create some great images built on the couple seeing each other before the ceremony on their wedding day.
There are normally two main reasons that a couple doesn't want to do a First Look: (1) they don't know what actually happens during a First Look, or (2) they know what a First Look is, but have their heart set on that 'walk down the aisle' moment.
Here's how the First Look works:
First, we'll pick a beautiful private spot with perfect lighting, and we'll set up the groom with his back turned to the bride. We'll get the bride set up so she looks stunning (dress and hair in the perfect spot, bouquet ready, makeup touched up), and then we'll back away, shoot with long lenses to give them space, and the groom will get to turn around to see his beautiful bride. Then I tell them that we'll give them ten to fifteen minutes to just hang out – they get to laugh together, cry together, and just be together. The groom will have the space and the freedom to feel his emotions, talk about the day, check out his bride and hold her close. The bride has the time to check out her soon-to-be-hubby, show off her gorgeous dress, and laugh through her tears of joy. It's all completely private, and completely theirs. Another option is we can include all the family and bridal party photos right after the First Look. Then the couple gets to hang out together for the rest of their wedding day. Who wouldn't want to spend the best day of their lives with the one they love most?
The Benefits:
One benefit of doing a First Look is that families, wedding party, and even the two of them will be able to enjoy the cocktail hour if we do a First Look. This results in a much less "rushed" feel to their wedding day. From a time line aspect The First Look makes the most sense.
Another benefit is it's so much more intimate and emotional than the moment walking down the aisle. Walking down the aisle, I think a lot of brides are so aware of everyone watching them, not wanting to trip, not wanting to cry because the makeup will run, etc. The First Look is very private and personal.
Consideration:
We aren't trying to push the First Look,  we are only trying to educate. Ultimately, it is a personal decision between the couple and we respect whatever decision they make. Either way, we will provide the best experience and the most beautiful photographs that we possibly can on their wedding day.
Please follow, like and share: